Home
Talk

0
728pages on
this wiki


Welcome to NightClan

Roleplaying Wiki!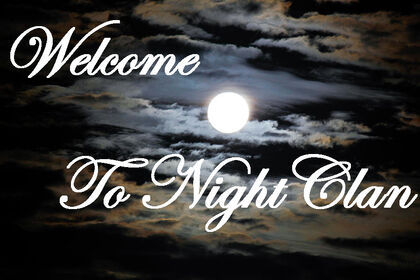 You're padding through a shadowy pine forest, ears pricked for any noise.
Suddenly, there's a rustle behind you, and you spin around to see a slender cat standing there, waving her tail excitedly.
"Hello there! I'm Stormstar, the leader of NightClan."
You gape at her, finally managing to gasp out, "What's NightClan?"
She purrs, "Follow me, and I'll show you."
Slowly, you follow her through ferns and bramble thickets, until you emerge in clearing, dappled with shadows and moonlight.
"Welcome to NightClan."
NightClan is a place where you can roleplay with other users, and all you have to do is look at the Rules, and then fill out a form to Join the Clan!. This is based off of the Warriors series by Erin Hunter.
Enjoy your stay!
Around the Wiki
Important Cats
Staff